So last week Forever 21 offered to give 100% of their online purchases to help Japan out. I swooped at the chance. It's been really hard for me to find anything at the store because the one closest to me is 3 stories (overwhelming much?) and not that organized. So when I shop online, I can see all the items one at a time. So I got a few things. Let me know which ones you like? Or dislike.
This shirt is kind of like a semi-circle and made me think that I could make it...but now that I'm in school, my diy-ing has slowed down drastically. I like the eyelet but the material is a little strange (it's called suede-ette on the site).
I also feel like I have batwings in this shirt, which makes me want to keep it more.
Also note my favorite wedges. Boyfriend doesn't like wedges. Oh well!
Maxi dress. Story time!
So first time I met boyfriend, I wore a maxi dress in the Santa Cruz heat. I only wore it once, and never again so I returned it for a new bathing suit. Way more useful right? Well I find out the boy loved that dress. Woops. So here's my chance at redemption. It's not anywhere similar, the fabric is different, the print is different, this one is strap-less. But for $12.80 it will have to do.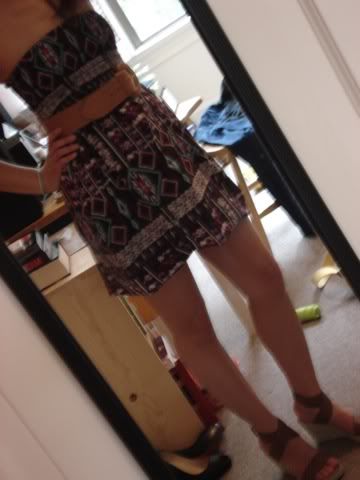 Also, I can do this with it! You know how I love versatility.
It looks like a skirt but it's shorts! With pockets. Ok, I'm easily amused. I hope the sun comes out to play so I can play too!