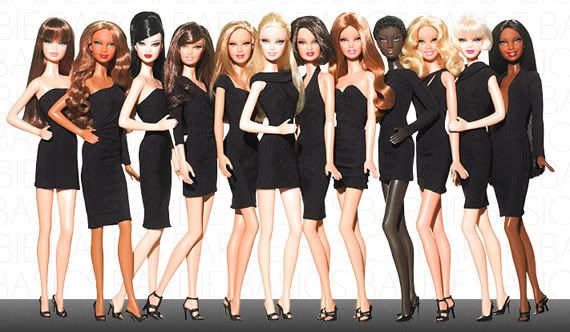 Via:
Nitrolicious
My love for fashion is probably the direct result of my love for Barbies. As you remember from this post, I have a thing for dolls.
Mattel recently introduced a Barbie Basic line, that is bascially a Barbie dressed in a LBD that you can customize with your own personal style. I'm a fan.
To celebrate the launch of the LBD-loving Barbie Basics line, 12 CFDA fashion
and accessories designers, including Isaac Mizrahi, Betsey Johnson, Rachel Roy,
Justin Giunta, Lorraine Schwartz, Alexis Bittar, Monica Botkier, Deborah Lloyd
of Kate Spade, Tory Burch, Albertus Swanepoel, Phillip Crangi and Devi Kroell,
created one-of-a-kind dolls spotlighting their unique points-of-view. Starting
January 28th at 10pm EST through February 7th, these individually styled pieces
of art will be auctioned off on eBay with the entire net proceeds directly
benefiting CFDA education initiatives and scholarship program. The opening bid
begins at $100.